Introduction
For Droids Servomotors are used for almost every linear or rotational movement.
They come in a variety of configurations and understanding the differences is the trick to find out which is right for your project.
In simple terms, servos are standalone electric motors that push and rotate parts in droids wherein a specific task and position need to be defined. When a servo is given a command, it moves to a position and holds there with resistive force. A servo uses either a rotary actuator or a linear actuator to control angular or linear positions through acceleration and velocity.

They typically operate between 4.5V–6V, which run through power, ground, and control wires.
It's always recommended to use the servos operation voltage at the higher end!
With higher operation power the servo is faster and has a higher stall torque
The gears in the motors are easily subjected to wear and tear, so if your application requires stronger and long running motors you can go with metal gears or just stick with normal plastic gear.
Plastic gear (SG = standard gear)
Metal gear (MG = metal gear)
Always get a metal gear version if possible!
The less you pay for the servo, the less mechanical power it will have to muster and the less precision it will have in its movements. You can pay a bit more and get one that moves quickly, but it may not have a lot of power. You can also buy one that will pull or push large loads, but it may not move quickly or precisely. Manufacturers' websites and online hobby guides will have a lot of this information you can use to compare models.
The best part of servos is, that they're "cheap", versatile and easy to control via Arduino & RC.
Digital vs. analog servos
Analog Servos operate based on on/off voltage signals that come through the PWM. When this type of servo is resting, the PWM is essentially off unless you transmit an action. Producing torque from the resting mode makes the initial reaction time sluggish, which can cause problems in advanced applications.
Digital Servos use a small microprocessor to receive and direct action at high frequency voltage pulses. The digital servo sends 300 pulses per second, where the analog only operates at 50 pulses per second. These faster pulses provide consistent torque for quicker and smoother response times. This is a great benefit, but digital servos consume a lot more power.
Servo Types
Positional Rotation Servo:
The positional rotation servois is the most common type of servo motor. It rotates within a 180° range. It's not designed to turn beyond its preset limits. Useful for limited-range applications like moving levers or steering linkages.
Continuous Rotation Servo:
can turn in any direction independently and continuously. So those servos are very useful for wheels and gears.
Linear Servo:
A linear servo uses a rack and pinion mechanism to change the output back and forth instead of circularly. This servo is rare, but can be found in larger droids and robots.
Servo Sizes
There are 2 common servo sizes. The standard size and the micro size. Whenever you have enough space go with standard size as they provide much more torque and power – and are more durable.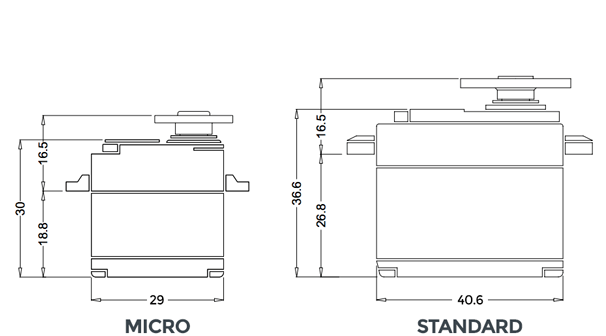 Choosing the right servo
As mentioned before, if you have the option, use a metal gear servo.
What is the purpose of the servo?
Will 180° degrees be enough or do you need continuous rotation?
Do you need speed and/or power?
If you buy cheaper "chinese" servos, buy spares. You'll need them! Especially if they have a plastic gear.
Here are some basic/standard servos:
The parameters are from the TowerPro, Hitec, Futaba & AZ-Delivery Data Sheets any may slightly vary from vendor to vendor.
Please note some of the servos are available as both versions: 180° & continuous rotation – be careful
MG90S
| | |
| --- | --- |
| Servo | MG90S |
| Size | Micro |
| Gear | Metal |
| Rotation Angle | 0° – 180° (Resolution: 1°) |
| Operating Voltage | 4.8V-6V |
| Operating Current (Idle) | 10mA (Typical) |
| Operating Current (Movement) | 100-250mA |
| Operating Current (Stall) | 700mA |
| Operating Speed | 0.1s/60° (4.8V), 0.08s/60° (6V) |
| Stall Torque | 1.8kgf·cm (4.8V), 2.2 kgf·cm (6V) |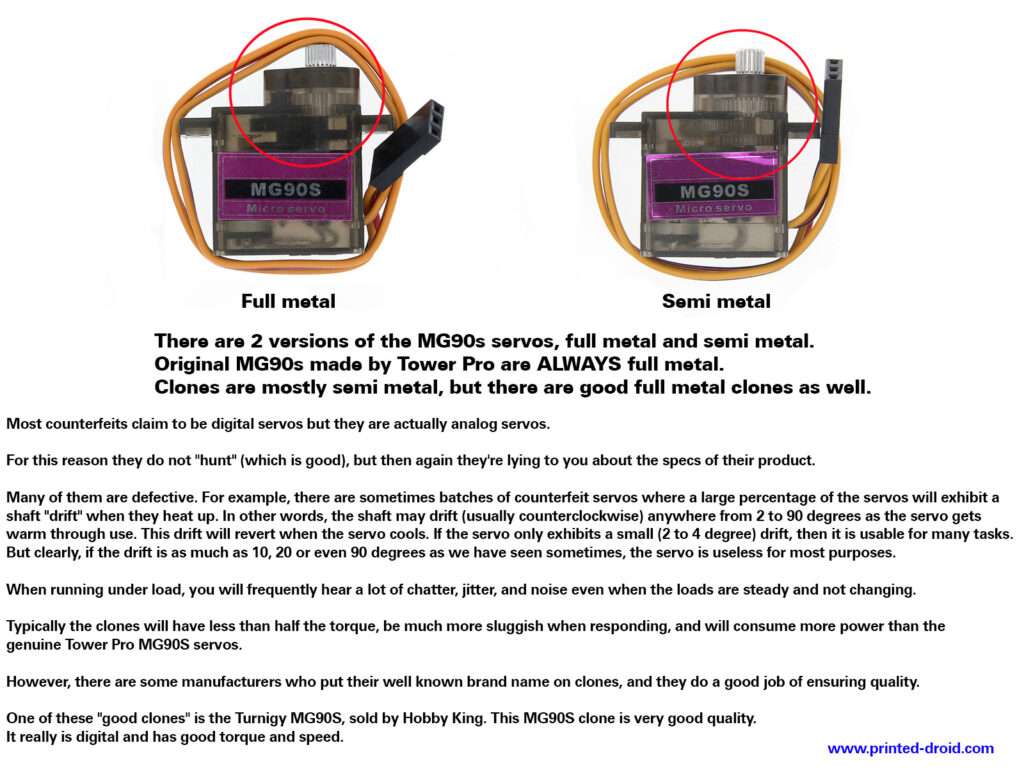 SG90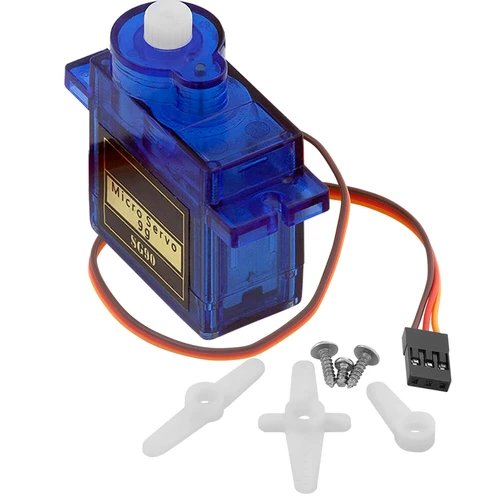 | | |
| --- | --- |
| Servo | SG90 |
| Size | Micro |
| Gear | Plastic |
| Rotation Angle | 0° – 180° (Resolution: 1°) |
| Operating Voltage | 4.8V-6V |
| Operating Current (Idle) | 10mA (Typical) |
| Operating Current (Movement) | 100-250mA |
| Operating Current (Stall) | 700mA |
| Operating Speed | 0.1s/60° (4.8V), 0.08s/60° (6V) |
| Stall Torque | 1.8kgf·cm (4.8V), 2.2 kgf·cm (6V) |
MG995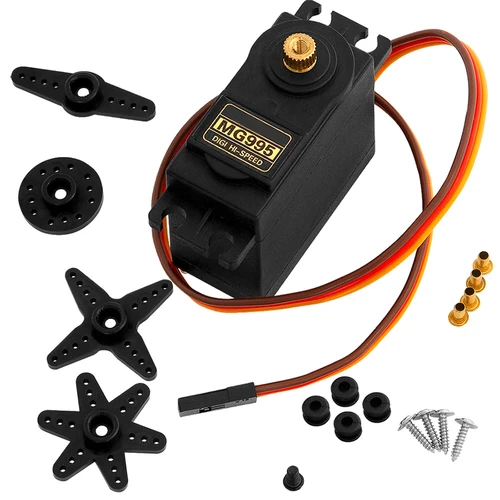 | | |
| --- | --- |
| Servo | MG995 |
| Size | Standard |
| Gear | Metal |
| Rotation Angle | 0° – 180° (Resolution: 1°) |
| Operating Voltage | 4.8V-6V (7.2V) |
| Operating Current (Idle) | 10mA (Typical) |
| Operating Current (Movement) | 120-300mA |
| Operating Current (Stall) | 1200mA |
| Operating Speed | 0.2s/60° (4.8V), 0.16s/60° (6V) |
| Stall Torque | 8.5kgf·cm (4.8V), 10 kgf·cm (6V) |
MG996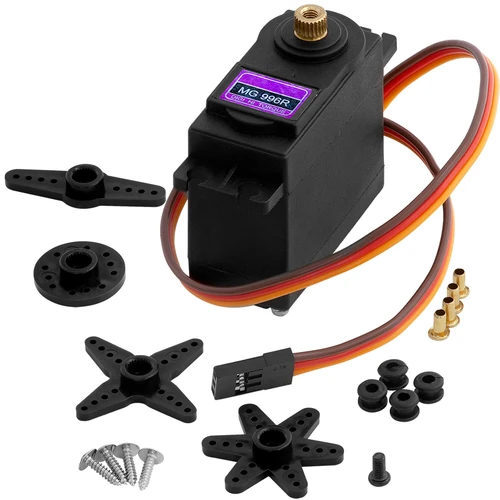 | | |
| --- | --- |
| Servo | MG996 |
| Size | Standard |
| Gear | Metal |
| Rotation Angle | 0° – 180° (Resolution: 1°) |
| Operating Voltage | 4.8V-6V (7.2V) |
| Operating Current (Idle) | 10mA (Typical) |
| Operating Current (Movement) | 500-900mA (6V) |
| Operating Current (Stall) | 2500mA (6V) |
| Operating Speed | 0.17s/60° (4.8V), 0.14s/60° (6V) |
| Stall Torque | 9.4kgf·cm (4.8V), 11kgf·cm (6V) |
S3003 (Futaba)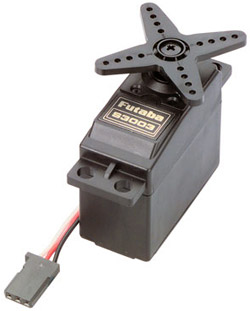 | | |
| --- | --- |
| Servo | S3003 |
| Size | Standard |
| Gear | Plastic |
| Rotation Angle | 0° – 180° (Resolution: 1°) |
| Operating Voltage | 4.8V-6V |
| Operating Current (Idle) | 9mA (Typical) |
| Operating Current (Movement) | 120-300mA |
| Operating Current (Stall) | 700mA |
| Operating Speed | 0.23s/60° (4.8V), 0.19s/60° (6V) |
| Stall Torque | 3.2kgf·cm (4.8V), 4.1 kgf·cm (6V) |
HS-82MG (Hitec)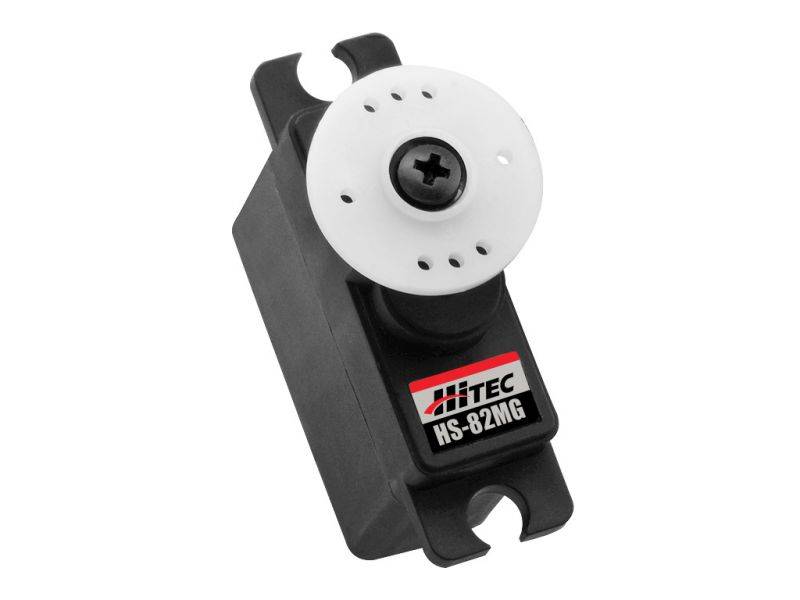 | | |
| --- | --- |
| Servo | S3003 |
| Size | Micro |
| Gear | Metal |
| Rotation Angle | 0° – 180° (Resolution: 1°) |
| Operating Voltage | 4.8V-6V |
| Operating Current (Idle) | 9mA (Typical) |
| Operating Current (Movement) | 280mA |
| Operating Current (Stall) | 1800mA |
| Operating Speed | 0.12s/60° (4.8V), 0.1s/60° (6V) |
| Stall Torque | 2.81kgf·cm (4.8V), 3.38 kgf·cm (6V) |
There's a good Database to compare Servos:
https://servodatabase.com/