Introduction
There are many ways to control droids. Xbox controllers, Playstation controllers and traditional radio transmitters.
This is about the latter.
I won't go into Jeti, Multiplex and other high-end stations here, but rather cover the low and mid-budget range ~50-200USD – Mainly with the OpenTX software.
You can actually say the more expensive a radio transmitter, the better the workmanship (better Hall gimbals instead of normal ones) and the more channels available.
They also have mostly rechargeable batteries, touchscreens and a sophisticated configuration program.
Choosing the radio transmitter:
An RC transmitter is something that you'll most likely keep with you for years to come, so make sure to get it right!  
Channels
The number of channels you have relate to how many functions droid can operate. Each channel is essentially a seperate frequency which can control each action of the droid. You'll have to decide on how many channels you need/want before purchasing a transmitter.
In order to be able to drive with R2 and turn the head, 3 channels are required. That means with a 4 channel radio remote control there would just be one channel left.
In my opinion, you shouldn't buy a controller that has less than 10 channels.
Unless you limit yourself to mini droids, then 6 channels should be sufficient. But if you consider that a 10 channel transmitter costs less than 10USD more, everything under 10 channels also makes no financial sense and you may have some room for improvement later.
Modes
RC transmitters mostly come in two main modes or configurations. These different modes determine what each stick does on your transmitter. Mode 2 is a lot more popular than mode 1.
Most controllers can be modified to Mode 1 or 2 if you bought the "wrong" version.
Mode 2: Your left hand controls the throttle.
Mode 1: Your right hand controls the throttle.
Buttons / Switches / Sliders
What use are 16 channels if you only have 2 gimbals and 4 switches?
That is why it is also relatively important how many channels I can control directly with switching elements. The more the better 😉
Therefore, think about beforehand how many things you have to control directly.
Why, for example, does the Jumper T-Lite have up to 16 channels but only 4 switches?

The remote controls are mainly used for model aircraft. And a model airplane has different rudders that are mixed in the controller and then passed on from the receiver to the servos.

The operator therefore does not have to actively operate these channels, but they are still required. They are, so to speak, "passive".
Software & Model management
If you only have one or two droids, you can buy a transmitter that doesn't have sophisticated model management.
But if there are several, where the functions to be controlled should also be mixed or extended functions are necessary, you should decide on an OpenTX transmitter. OpenTx is incredibly powerful and versatile.
Receivers
One consideration that you will definitely have to think about is how much you're willing to spend on receivers. Receivers are an integral part of a radio system being the things that connect to your transmitter. You're going to need more than one so that you don't have to keep swapping them out between planes. If you have lots of aircraft, you'll probably need lots of receivers too.
Protocol
Each manufacturer has its own transmission protocol and is basically only compatible with its own receivers.
However, this can often be compensated for with additional modules, as these can then also control third-party receivers.
I always recommend using multi-protocol transmitters. These usually have the JP4IN1 module already built in. With it you can connect and use almost every common receiver.
Here are some of the radio transmitters I'd recommend:
My Top 3 are:
1. TX 16S (because of its features)
2. TX12 (good mix between features and size)
3. Jumper T-Lite (because of its size)

Prices from low to high (12/2021) – All transmitters are available at Banggood, Aliexpress and other vendors.
I left out the also good FrSky transmitters.
FrSky Taranis X9 Lite ~90USD
FrSky Taranis Q X7 ~110USD
They also run with OpenTX but you always need an external RF module if you want to use other receivers.
Flysky FS-i6X – 10Ch
Good, reliable and cheap beginner transmitter with limited "software"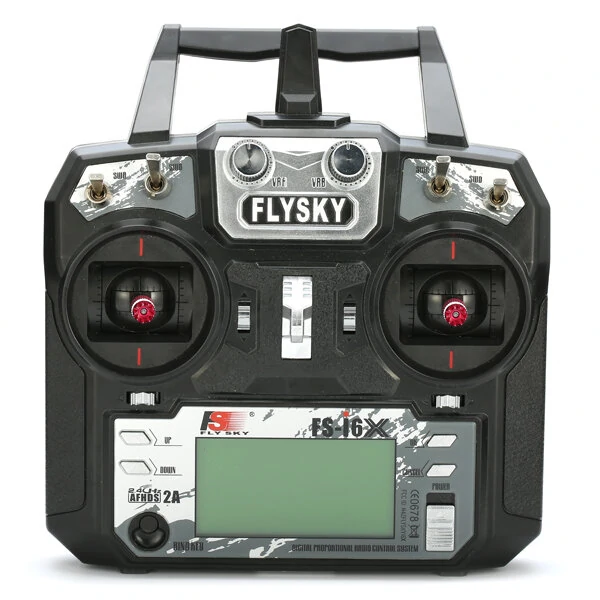 | | |
| --- | --- |
| Brand | Flysky |
| Price | ~60USD |
| Channels | 6-10 (activate 10ch in the menu) |
| Switches etc. (without gimbals) | 6 |
| Software | Own Software |
| 2.4GHz System | AFHDS 2A / AFDHS |
| Supported Protocols | AFHDS 2A / AFDHS |
| Chargeable | No |
| Weight | 392g |
| Display | LCD 128×64 (monochrome) |
Radiomaster TX12
Small, 8 switches/buttons/sliders, many channels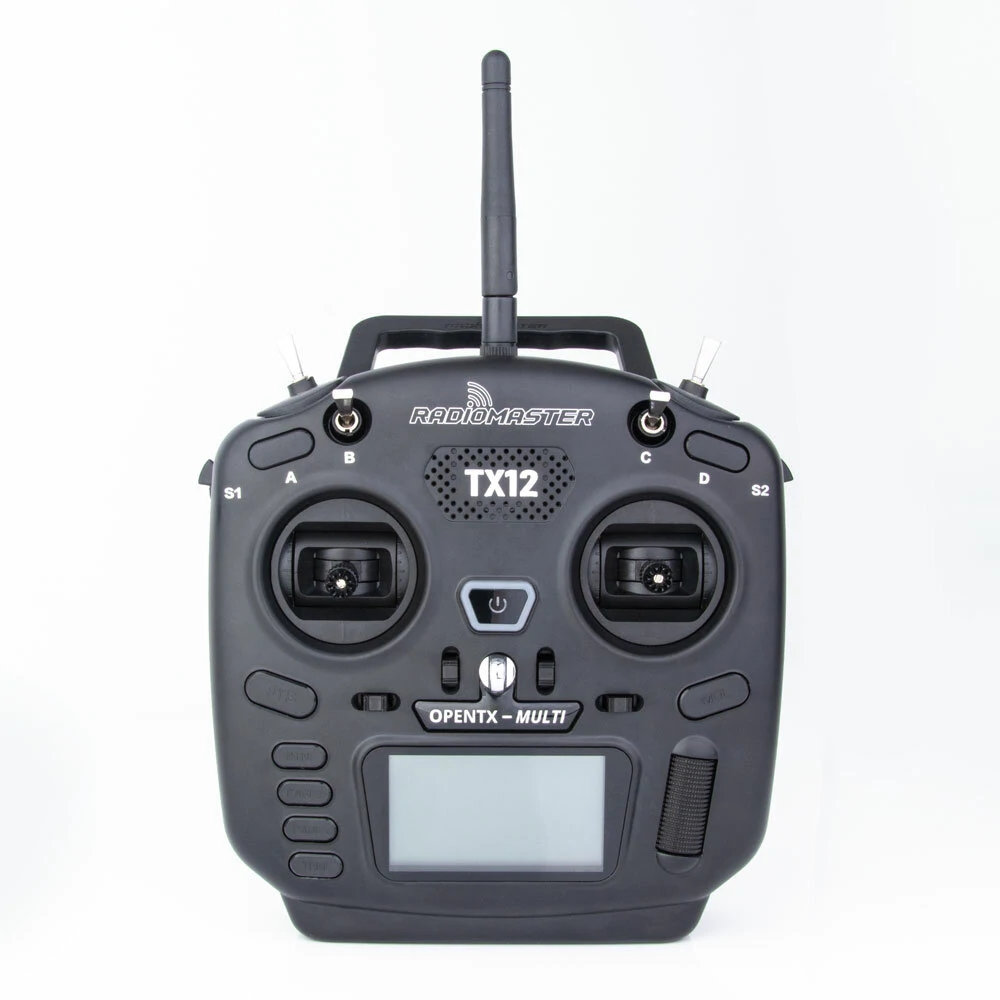 Brand
Radiomaster
Price
~75USD
Channels
16
Switches etc. (without gimbals)
8
Software
OpenTx
2.4GHz System
Single-chip Multi-protocol CC2500)
Supported Protocols
Corona, Hitec, Futaba S-FHSS, Frsky D16/D8,
RadioLink, Graupner HoTT
Chargeable
Yes
Weight
363g
Display
LCD 128×64 (monochrome)
Jumper T-Lite (JP4IN1)
Small and lightweight controller but only 4 switches!
Brand
Jumper
Price
~90USD
Channels
up to 16
Switches etc. (without gimbals)
4
Software
OpenTx
2.4GHz System
4in1 Single-chip Multi-protocol
C2500, A7105, CYR6936, NRF2401
Supported Protocols
Corona, Hitec, Futaba S-FHSS, Frsky D16/D8,
RadioLink, Graupner HoTT and much more
Chargeable
Yes
Weight
260g
Display
LCD 128×64 (monochrome)
Radiomaster TX16S / Eachine TX16S (Hall sensor gimbal version)
Eachine TX16S is a rebrand of the Radiomaster TX16S
~15USD cheaper, slightly different button layout, same features
Brand
Radiomaster or Eachine
Price
~165USD (Radiomaster)
~150USD (Eachine)
Channels
16
Switches etc. (without gimbals)
12
Software
OpenTx
2.4GHz System
4in1 Single-chip Multi-protocol
C2500, A7105, CYR6936, NRF2401
Supported Protocols
Corona, Hitec, Futaba S-FHSS, Frsky D16/D8,
RadioLink, Graupner HoTT and much more
Chargeable
Yes
Weight
736g
Display
LCD 480×272 (full color)
Links: